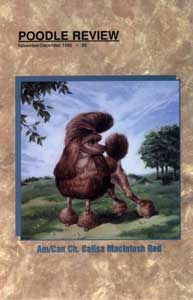 Located in a small town south of Sarasota, Florida, is the home of Calisa Poodles. The aquamarine of the gulf is a fitting background for the gorgeous jewel red of Calisa's world famous red poodles. Puppies born here have found wonderful homes in places far away as Australia, Japan, S. Korea, Mexico, Colombia , Honduras, Puerto Rico, France, Italy, Switzerland, and all over the United States and Canada. Puppies born in our home have grown up to be top show dogs and major producers, earn obedience degrees, perform in plays and dance troupes, become therapy dogs and agility enthusiasts, and best of all, become beloved family members.

Temperament is our first and foremost consideration at Calisa Poodles. Calisa Poodles are "people dogs" to which anyone who has lived with one can attest. We select, breed, and raise ours with temperament our top priority. Poodles live to be with their people, and nothing is more flattering than a Calisa Poodle. Whether you are absent for one hour or six, a warm welcome is assured. After all, you are the most important thing in his or her life. Here again, our attention to, and expertise in selecting for temperament gives the owner of a Calisa Poodle an advantage. Our ideal temperament is that of the poodle who plays actively when encouraged on the floor, but is perfectly content to be on the laps of his own people. We have found that this temperament best serves a Calisa Poodle whether destined to be a champion of the show ring or of the home. Variations in temperament can provide the basis for selection for different situations. We also have the nonstop cuddlers and the even more adventurous individuals. Whether male or female, each Calisa Poodle is a definite individual, and we are aware of his/her unique personality. Both Calisa boys and girls make equally wonderful companions- the individual's own personality should take precedence over a preference for one sex or the other.

Every Calisa Poodle has been examined by our veterinarian and is accompanied by a veterinarian health certificate. An individual complete written health record with all inoculations is included. Every Calisa puppy is treated as if he will be a permanent resident in our own home and every recommended vaccination is given. This means that a Calisa puppy generally has had more shots at any given age than a poodle purchased elsewhere. Full instructions for continuing this program of protection are noted for you and your veterinarian's convenience.

Here at Calisa Poodles we have been actively checking our poodles, all colors, for hereditary eye problems since 1977. Our poodles are certified by one of the most esteemed diplomates of the American College of Veterinary Ophthalmologists.

We feed the highest quality premium diet available. By providing the best diet, you are assured of the best possible nutritional start for your poodle. It is important that a puppy remains on this food at first, and changed only gradually to another if necessary. Therefore, we provide some of this food with the puppy, in addition to a written guide to feeding and care for the new puppy owner.

This extra care is also reflected in our shipping arrangements. We always choose the best flight and the most direct route. Hand delivery to major airports is an option sometimes available.

Calisa Poodles is dedicated to breeding the most outstanding poodles available to the show minded, serious fancier/breeder, and obedience exhibitor. We are known worldwide for our red poodles. We are proud that CALISA POODLES:
Has the most Champions in the color Red world-wide.
Owned and bred the 1st American and Canadian Champion Red dog.
Owned and bred the 1st Red toy female to win a U.S. Specialty Best of Variety.
Owned and bred the youngest Red poodle to win a U.S. Specialty and the only one to win his first time out in the ring.
Owned and bred the 1st Red female AKC puppy Champion.
Owned and bred the 1st Red National Specialty winner.
Owned and bred Canada's 1st Red puppy Champion and the 1st Red Multiple Group Winner.
Home to 8 Top Producers in the color Red, including the 1st Red Top Producing Dam.
We also raise, show and finish outstanding champion poodles in the other colors. Many of our poodles have earned obedience titles and are enthusiastic workers.

A poodle acquired from Calisa for show or breeding in any color is not just a fine example of the breed, but also reflects the depth of quality in the pedigree behind that individual. Generations of champions and producers result in a poodle that is top quality and is capable of producing it, too. A poodle exclusively for companion enjoys this very same quality, and has always been placed in an approved home with a spay/neuter agreement since 1977.

In selecting a Calisa Poodle, you are acquiring the years of selective breeding in the background as well. Calisa Poodles offers puppies, adults, and occasionally selected champions out of champions and Top Producers. Calisa Poodles concentrates on toys. Occasionally, we do have small to full size miniatures (11"-14" at the shoulder). These are particularly appropriate for homes with small children, and are well suited for longer walks. We prefer to show the smaller toys; therefore we often have the very tiny ones popularly known as "teacups" or "pocket toys." Since there is no established standard for "teacups", we consider that it will be one if we feel the puppy will grow to no more than 81/2" at the shoulder. The little ones are amazing for their intelligence in incredibly minute packages. At Calisa we keep these tiny ones longer in order to ensure that they are healthy, that they have the best possible start in life, and that they are truly tiny. When choosing the size, bone structure and build are important factors as well as height.

Regardless of size or destination, all Calisa Poodles are given EXTRA special attention to ensure that each one will be the real "people dog" your poodle should become. Whether you are seeking a fabulous pet to impress, or to show or breed, our poodles are raised as part of our family, to become part of yours.